Shannon Sea Sportfishing Fishing Charter Prices
Upcoming Availability -
Select a Date
Call to Get a Custom Trip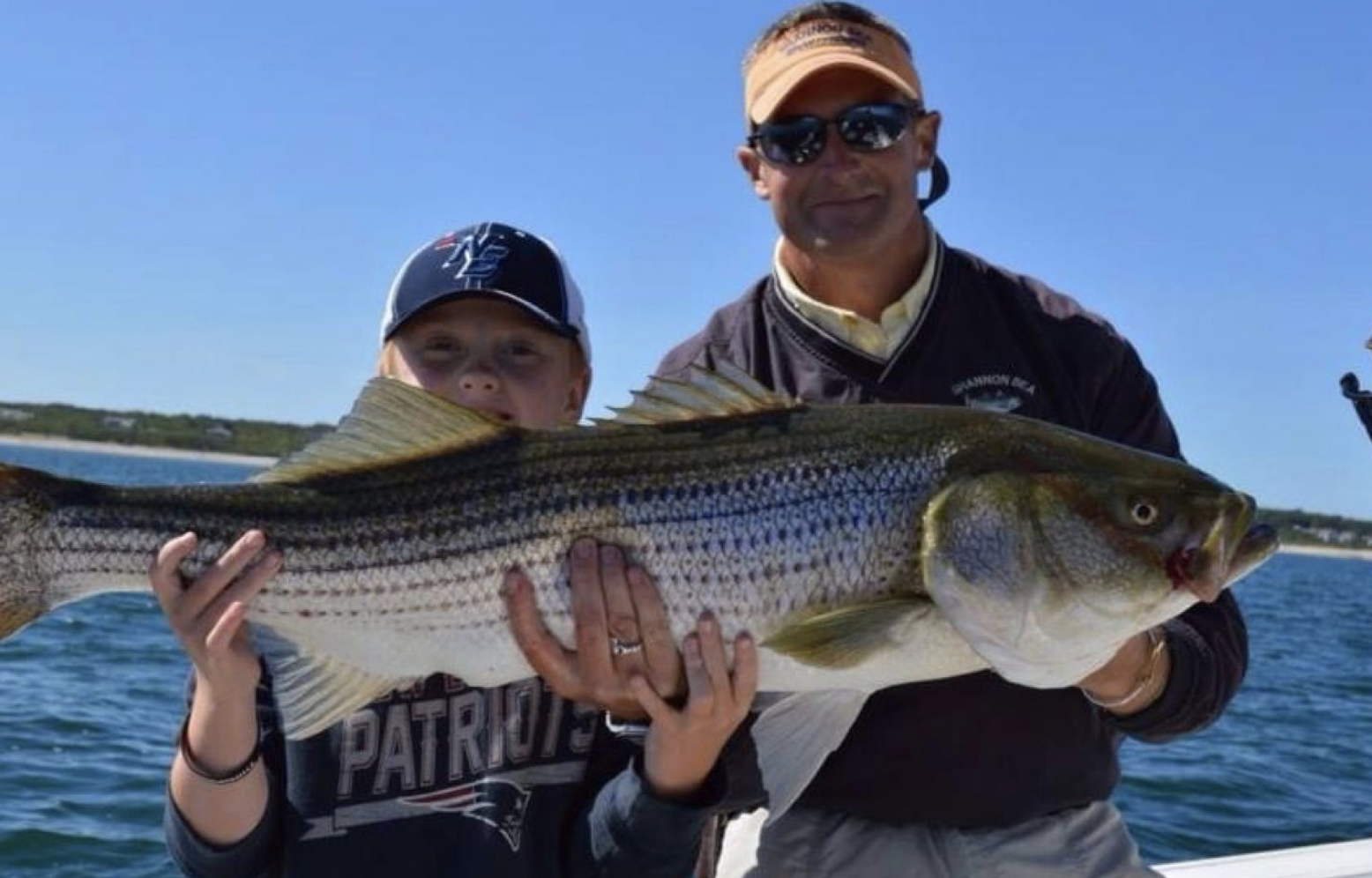 Available Times & Prices
5 hrs at 7:00 AM - $650
4 hrs at 7:00 AM - $550
4 hrs at 11:00 AM - $550
6 hrs at 7:00 AM - $750
Cape Cod Fishing Charters
Half Day Fishing Adventures for Stripers and Bluefish Fishing Charters
Fishing - Offshore

Fishing Boat:

Shannon Sea • 26' Sailfish • Max 6 guests (base trip price includes 4 guests)
Target Fish:
Bluefish, Striped Bass
Description:
Cape Cod Bay is famous for its Striped Bass and Bluefish. Come out on the Shannon Sea for an exciting day of catching these two popular gamefish. We'll either cast at them on the surface or hunt them down if they're lying on the bottom. Striped Bass can be kept if between 28-31 inches. Your fishing charter includes fishing licenses, and includes 4 guests, but there's room for 6! Book your Cape Cod Bay fishing adventure today. we can do anything from 4 hrs to 8 hrs. We can also swing into Barnstable Harbor and drop you off for lunch if you choose. Thank you and stay safe.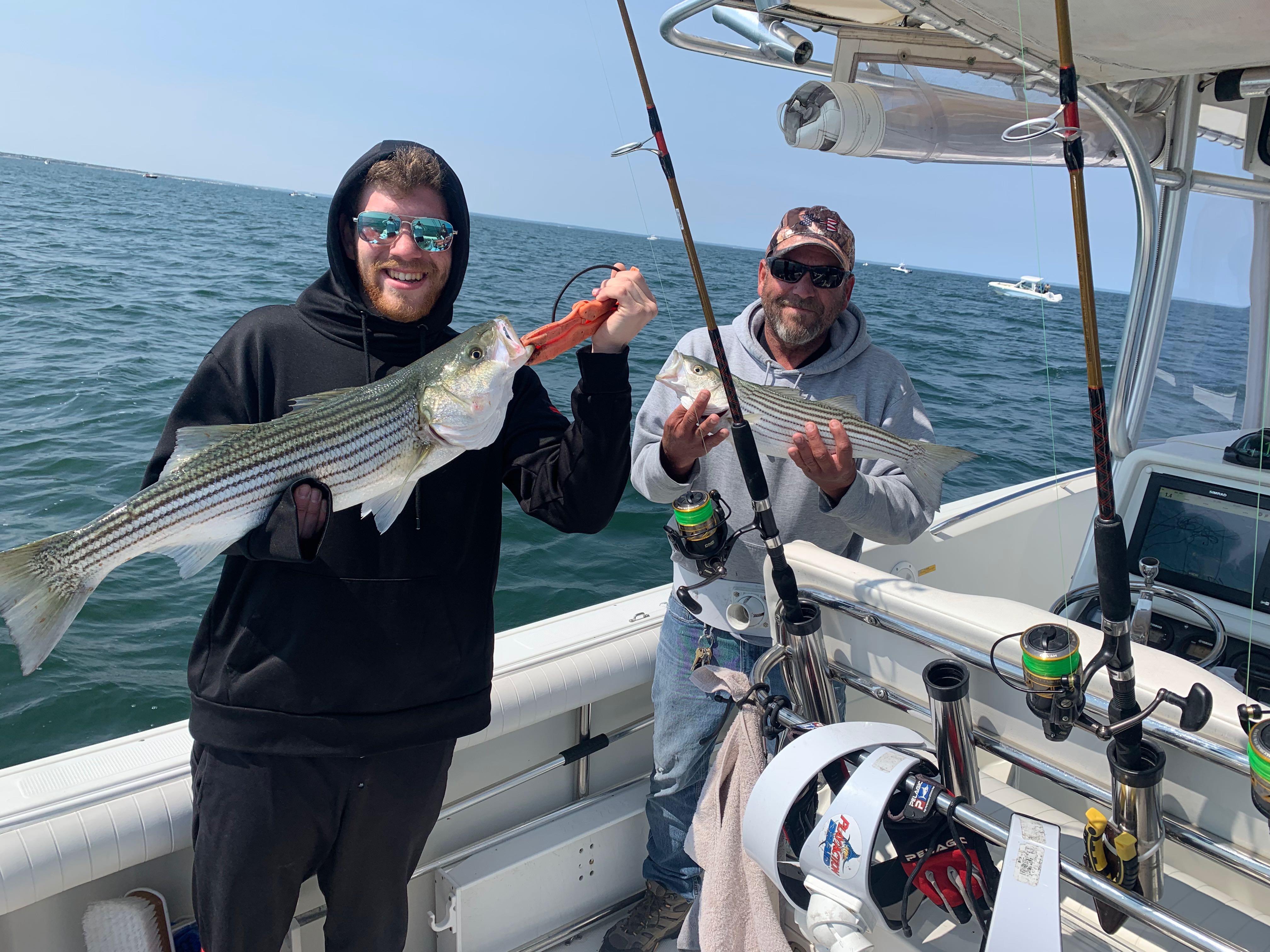 Available Times & Prices
8 hrs at 7:00 AM - $950
7 hrs at 7:00 AM - $850
Cape Cod Deep Sea Fishing Charters
Full Day Fishing Through Cape Cod!
Fishing - Inshore

Fishing Boat:

Shannon Sea • 26' Sailfish • Max 6 guests (base trip price includes 4 guests)
Target Fish:
Bluefish, Striped Bass
Description:
Spend a full day on the water with Captain Mark and Shannon Sea Sportfishing chasing after various fish like Bluefish and Striped Bass and maybe a few others in between! You will explore the Cape and head out into the nearshore Atlantic, seeing sites you've never experienced before! Your trip includes 4 guests with room for 6, fishing licenses for all, and catch cleaning and filleting for all legal fish.
Shannon Sea Sportfishing Fishing Trip Information
TRIPS ARE SCHEDULED FROM 5TH WEEK OF MAY
Good to Know's
All rods, reels, tackle and live bait included when applicable.
Complimentary soft drinks provided.
Bring snacks, sunscreen, polarized sunglasses, and a camera!
Schedule a Trip Now!
We work hard to keep our calendar updated. Our schedule is the most updated information so please book online. We will contact you after to make your trip as positive an experience as we can.
If you have questions or want to talk to someone further, feel free to contact us directly, click here for our contact us information.
Common Questions
How much is charter boat fishing in Cape Cod?
Our fishing charters range from $550-$950 per charter and include 4 guests!
What is the best time of the year for fishing in Cape Cod?
The best time of the year for fishing in Cape Cod is typically during the summer months, from June to September, when the waters are warm and teeming with a variety of fish species. Shannon Sea Sportfishing, with their experienced guides and deep knowledge of the local fishing patterns, can ensure that anglers make the most of this prime fishing season, providing unforgettable fishing experiences during this optimal time.
Why book a fishing charter?
Booking a fishing charter offers a multitude of benefits, providing a well-rounded and tailored fishing experience. By choosing Shannon Sea Sportfishing, guests can tap into the expertise of Captain Mark Haley and his team, who possess an intimate understanding of the local waters, fishing techniques, and hotspots, guaranteeing an exciting and successful fishing adventure that surpasses expectations.